You Are The Average Of The Five People You Spend The Most Time With
You Are The Average Of The Five People You Spend The Most Time With
This is the sixth in a series of 10 guest posts that will show you how to successfully apply the Law of Attraction.
By Heather Mathews
Author of Manifestation Miracle
My name is Heather Matthews, and I am a transformational speaker, life coach, and an expert on energy flow.
I spent years of my life chasing the carrot of more money and more time all because I believed that if I just worked hard enough, I'd eventually get there…
Yet all I needed was one simple secret technique that turned everything around for me… the secret that allowed me to get more, while doing less – the secret behind "The Secret".
Plain and simple and as crazy as it sounds, the only way to quit struggling and instead start feeding endless cash and abundance into your life like an ATM machine on hyper-speed… is by giving up on hard work and forcing the Universe to give you everything you've ever wished for.
So, how do you do that?
It's surprisingly easy to get started. You just need to follow these 10 Super Simple Steps to Attract Everything You've Ever Wanted:
Step #6: Avoid the "toxic" crowd
The definition of "toxic" is pretty fluid – what is toxic for me may not be toxic for you, but there are a few basic characteristics of toxic people-people who seem hell-bent on pulling others into their world of misery.
Generally, a toxic person will be very draining, leave you feeling depressed, angry, anxious, worried and/or strained. Toxic people also like to make you deal with their issues and, depending on the relationship; they may even blame you for their problems. They do not care about anyone other than themselves and they typically view the world as being all about them.
Whether they're trying to lessen their own pain or simply enjoy inflicting pain on others, you need to steer clear of them. In a word, toxic people are destructive!
I'm sure we have all run into 1 or 2 toxic people; the problem arises when we keep these toxic people in our life. To be clear, you will never be happy if you keep toxic people in your life. These types of people are considered destructive for a reason – they ARE destructive! They drain all positivity and happiness from your life.
Your first step to ridding yourself of this source of stress is to recognize whether or not you have a toxic person in your life. Pay attention to how the people around you make you feel. If you feel badly after engaging with someone (not just sometimes but most of the time), that person may be toxic. If you have a person in your life who consistently displays selfish and destructive behaviors, that person is likely toxic.
Once you have identified the toxic person, you need to work on eliminating that person from your life.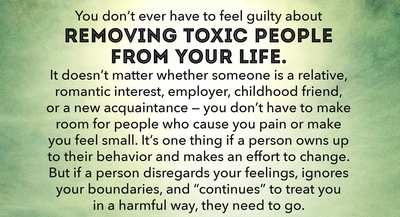 Depending on the relationship you have, this may be difficult. This person could be a family member, childhood friend, co-worker, etc. and you may feel guilty about kicking them out of your life, especially since toxic people can be very manipulative. But remember that this is your life and you are on a path of happiness and positivity! Do not let this initial guilt sabotage your future.
The nature of the toxic relationship will determine how you deal with it:
For family members, close friends and co-workers, initiate the low-contact rule. That just means limiting your contact as much as possible. Change you schedule if possible and avoid the places that they frequent. If you happen to find yourself around one of your toxic people, do not engage. Avoid getting caught up in an argument or trying to solve their problems or doing something just to make them happy. Let them be toxic all by themselves.
For people who are just acquaintances or not really important to you, kick them right out of your life without a second thought! Chances are that they have several other people that they've drawn into their web of misery. Your absence will quickly be filled by someone else. They won't think twice about it and neither should you.
There is a third option that I would only suggest if the person is someone you love dearly and cannot imagine living without (such as a child, spouse, parent, etc.) and that is working on the relationship.
Some toxic people become toxic and destructive because of their experiences. A string of really difficult circumstances can turn a generally fun-loving and happy person into a toxic, destructive person. In these cases, instead of simply being done with that person, I would try therapy, counseling or just talking to that person. These cases can be very difficult, hurtful and confusing, but if both parties involved are willing, the relationship can be salvaged. Full disclosure: This process can be both hard and painful!
People have a huge impact on your life. "You are the average of the five people you spend the most time with," says American entrepreneur and motivational speaker Jim Rohn. With this in mind, choose people who will inspire you to be a better person, provide you with motivation to achieve your goals, empower you to make the changes you need to succeed and cheer on your success. In other words, spend time with people who will have a positive effect on your psyche. Not only does a person's energy attract circumstances, it's also CONTAGIOUS.
If you think you can be around someone and their influence and not be affected, you are completely wrong.  The strongest, most dominant energy will always win.  The ultimate impact that toxic people have on your life and self-esteem can be strong; not only will you too become negative; you will likely pick up other unflattering traits that they exhibit. Make sure you hang out with the people who'll inspire you to achieve greater things – and not bring you down with apathy or inaction.
The Law of Attraction says: Like attracts Like.
You become what you focus on.
Make sure your focus isn't on toxicity.